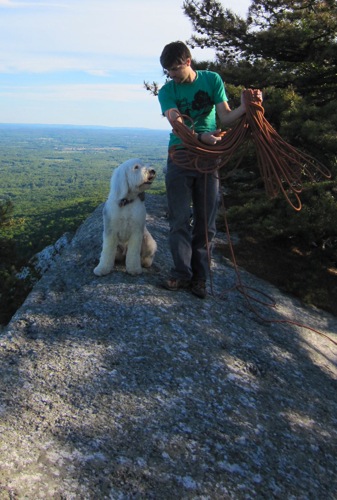 Click

Disclaimer: Millbank Mountain is a fictional rock climbing cliff located in a bucolic, though some prefer to say backwards, setting. The local peasant class (
Peasant Photo Here
) believe the cliff is too dangerous to approach because it is inhabited by Basilisks, mythical repltiles with a potent venom capable of turning people to crumbling stone. Hence, the obvious question must be asked: Why write guidebook style descriptions to a place that doesn't actually exist, especially if it's so dangerous? Answer: Because some people get off on it. Ok, that's it for the disclaimer, you may now enjoy the site!
Route,Pitch,
& Photo
Grade & Description
Square Meal P1
5.11 PG : Gorgeous angular ivory white rock yields a high class route past a few hard moves. The crux traverse is airy and fantastic;be careful you might think you're on a bigwall! Pockets, horizontals, edges,and finger cracks to a no holds barred ice-cream sundae finish, Square Meal won't disappoint the palette.
Bank Shot P1
5.10+ (5.9R): The colors on this intro pitch are absolutely stunning! Launch off through white, orange, and yellow steep rock past an awkward mantle and a brief but easy corner. There's a good roof and great thin face moves a bit above pro.
Bank Shot P2:
5.11G: This has great moves at the crux with pro that's even better. Just enjoy it! Belay on rubbly ledges. Tape your knees for the no hands rest before the crux.
Bank Shot P3
5.9: Moderate climbing up arete like feature leads to a cool bombay chimney roof, what a cool place to be!
Lessons in History
5.10+ PG: A tour of the greatest headwall on the East Coast! Perhaps the best and longest route in the Gunks!